South Shore Ukulelians
American Legion Hall on Wednesdays.Just about every Wednesday evening we get together in the meeting room upstairs at the American Legion Hall. Our weekly ukulele meetup includes full bar, draft beer (we are allowed to bring any food we want) with plenty of singing, strumming and laughing. We attract 50 to 60 players a week, from beginners to intermediates to seasoned players. We have beginner lessons as well as loaner ukuleles and song books so ANYONE can come and give it a try. Admission: FREE! We just ask that you support our host by buying a drink. What have you got to lose? As our leader, Bob Fannan, says "It'll change your life!"
Get on our email list for current info on our meetups.
Visit us on Facebook for the latest updates and schedule and videos.

Thanks to Carol Lehnert for our uku-alian logo!
Every Wednesday 6:00 to 8:00 PM.
Summer Schedule Starting April 11, 2019
Come at 5:00 and join us for socializing. Beginner's lessons and intermediate lessons at 5:30 and a new Advanced Beginner lesson at 5:00 PM. Directions to American Legion Hall at 2748 Hwy 50, South Lake Tahoe, CA 96150, across from Meeks Lumber.
Fall Schedule:
November 13th, 20th Regular Ukulelian meetups
November 27th No meetup due to Thanksgiving holiday
December 4th and 11th Dark Nights due to Ukulelian meetups in Hawaii. No one is available to set up the equipment.
December 18th Regular Ukulelian meetup
December 25th No meetup due to Christmas holiday
January 2nd we will have our annual New Year's Eve Ukulelian Party.

Winter Schedule:
January 8th will start the annual winter break for the Ukulelians. The Dark Night ukulele group will meet weekly, weather permitting. Marge Bornino (magpie1927@aol.com) will send out an email to interested players only if the weather causes the meetup to be canceled. If you were not on her list last year, and wish to be notified, please let her know to add you to the list.
April 8th or 15th, 2020 will be the start of the Ukulelian's new season. We will let you know which is the starting date later, when we know!
January 9 through April 8, 2020 we are on Winter Break. During this time the "Dark Night" Ukulelians will meet weekly on Wednesdays from 6:00 pm to 8:00 pm at the American Legion Hall. This is an informal group with no leaders or sound equipment. Players sit in a circle and take turns choosing songs to play from the Ukulelian Songbook or songs that they bring to share with the group. All levels of players are welcome. A few ukuleles and songbooks are available for loan.
American Legion Hall Spring 2017
Lake Tahoe Golf Course 2016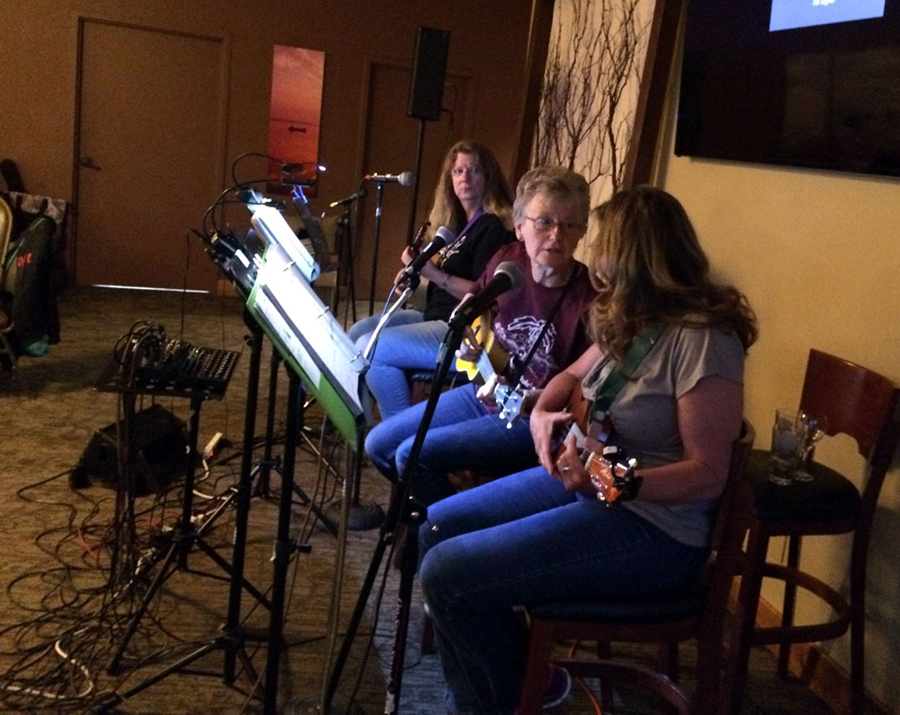 Visit us on Facebook for the latest updates and schedule and videos.